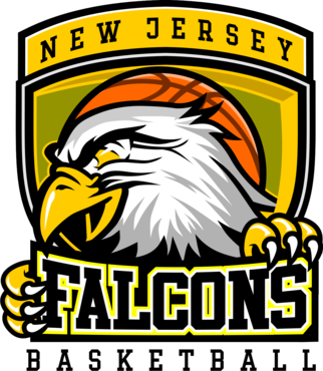 ---

Central Jersey Basketball is the proud founder of the New Jersey Falcons.
The NJ Falcons is a developmental basketball program. NJ Falcons teams will be coached by experienced basketball coaches (not parents). Once a player is selected to a NJ Falcons team, that player can continue to renew their spot on the team each season. It is our goal to keep teams together for years so they can grow and improve as a team. The CJB coaches will attempt to evenly distribute the talent across all teams within each age group, but due to the fact that certain teams will have more returning players, not all teams in each age group are guaranteed to be at the same level.
NJ FALCONS IS THE SAME GREAT PROGRAM AS THE MSC HAWKS BUT BASED OUT OF CENTRAL JERSEY BASKETBALL IN MARLBORO
Youth Basketball Players of ALL Levels are Invited to Play!

---
NJ Falcons Team Links: Includes Coach Information, Team Roster & Schedule
NJ Falcons Communication: CJB relies almost exclusively on the website and email to communicate with customers. Each team has its own website and all schedules are published on the website. An email will be sent as soon as a schedule is published. However, it is possible that email addresses get mistyped or emails get filtered to junk so IT IS THE RESPONSIBILITY OF EACH PLAYER to continuously check the website for schedule updates, especially at the beginning of a season. No refunds, credits, make-ups or rescheduling will be given because you didn't see your email or weren't aware of a game or practice, as long as it is posted at least 1 week in advance.
CJB Refund policy: CJB has a NO REFUND/CREDIT POLICY. CJB is not responsible for providing makeups or issuing refunds or credits for teams, leagues, games, practices, camps, clinics, etc missed as a result of any type of injury, illness, scheduling conflict, emergency, lack of playing time, or any other event out of the control of CJB. If CJB cancels a program or is unable to place you on a team, you will receive a refund. Again, there are no refunds or credits for any reason, even with a doctor's note.
This policy is to ensure fairness for all customers. Each program and team is specifically designed for a certain number of players. By registering and paying for the team, you are locking in your spot. Once the team fills, other players will be turned away. Each team has a budget that is used to pay for the team's expenses (uniforms, coaches, gym time, ref fees, etc). Providing refunds/credits would cause a shortage in the team budget, which is why the policy is absolutely no refunds or credits for any reason.