The Premier Basketball Facility & Programs in NJ
The state-of-the-art Central Jersey Basketball Gym is the premier basketball gym in Central Jersey
Central Jersey Basketball (CJB) is a 9,000 square foot facility featuring one regulation size basketball court (84x50) and one training basketball court (40x50). The main court has two main baskets and four additional baskets along the side. All four side baskets are attached permanently to the ceiling and can be retracted as needed. The height of the side baskets are adjustable from 8 to 10 feet. We offer a family atmosphere for basketball players of all ages and levels (click on each option for more information):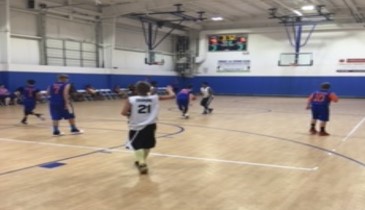 Scoreboards
There is a scoreboard on the wall in the main basketball gym with score, time, possession, period, team fouls, and last player foul.
Other Amenities
CJB features air conditioning and heating. Water fountains and drink machines are available.
Expert Coaches, Instructors & Directors
Former college players and or High School Coaches are available for requested services. Experienced tournament and league directors are available for planning events.